Harris Tweed is widely regarded as the world's most luxurious wool fabric, used in clothing, footwear, accessories and of course, homeware.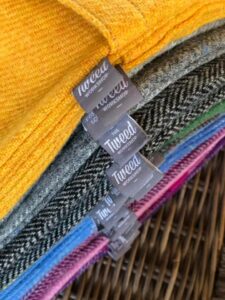 There is an incredible range of colours and patterns available, with approximately 4,000 styles on record. The Tweed Workshop at Mansefield Studios has nowhere near that number, but we do have a gorgeous capsule collection of cushions, lampshades and accessories designed and commissioned right here in the gallery. From gorse yellow and misty blue to blossom pink and forest green, our range has something to catch everyone's eye.
Established in 1993, The Harris Tweed Authority is the guardian of Harris Tweed and the iconic Orb Trade Mark.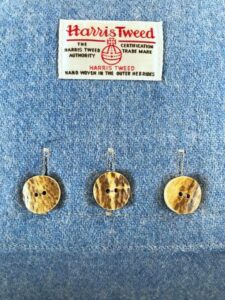 By law, Harris Tweed is defined as "…a tweed which has been hand woven by the islanders at their homes in the Outer Hebrides, finished in the islands of Harris, Lewis, North Uist, Benbecula, South Uist and Barra and their several purtenances (The Outer Hebrides) and made from pure virgin wool dyed and spun in the Outer Hebrides".
All of our Harris Tweed products carry the Orb label, certifying their aunthenticity.
In the same way that Champagne can only come from the region of France that gives it its name, Scotland has Harris Tweed.